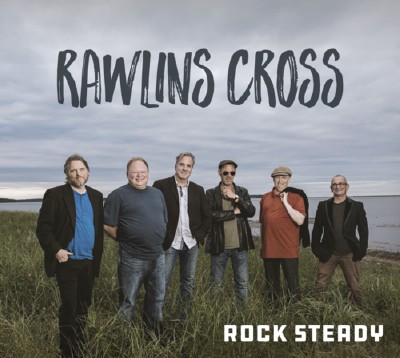 Rawlins Cross,
one of
Canada's most accomplished and beloved Celtic rock bands
, have rekindled the magic with their
six--track CD, Rock Steady,
and released it on Dec 1, 2017 through Groundswell Music.
The group formed over 25 years ago with their award winning album, A Turn of The Wheel, and have released a total of 8 albums, toured extensively throughout Canada, the United States and Europe. They had 2 Juno nominations and won countless ECMA awards.
The band with their fusion of Celtic tradition, rock and world music, Rawlins Cross never fail to electrify their faithful fans.
The CD contains 6 songs namely:
Rock Steady -Hold You Tonight - Long Have We Travelled
Can't Get You Outta My Mind - That Last Long Mile - Waltzing The Time Away.
Band members are:
Brian Bourne - chapman stick, bass, vocals, crunch guitar
Joey Kitson - lead vocals
Howie Southwood - drums
Dave Panting - guitars, mandolin, backing vocals
Geoff Panting - piano accordion, keyboards, backing vocals
Ian McKinnon - highland bagpipe, tin whistles, percussion
The CD was produced by Jon Landry and Geoff Panting. What a fine CD, says Atlantic Seabreeze! A great listening-to album and danceable as well. Fans will not be disappointed with this album and we predict several ECMA award nominations. A 5 Star rating out of 5 stars for this album from Atlantic Seabreeze.
For further information regarding Rawlins Cross and their music, refer to their website, address posted above.