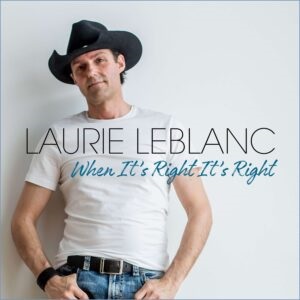 Laurie LeBlanc is a Country Music Artist from Bouctouche, New Brunswick.
He is a rising star and has been performing since 2011 most singing in French and has released several albums in French.In 2020 he released his first English album entitled, When It's Right it's Right. This album has awarded him an ECMA 2021 nominations for Country Recording of the Year and Artist Innovator of the Year. On top of this nomination, he just got word he got 4 nominations at the 7th Annual Josie Music Awards in Tennessee which takes place in September 2021. His nominations include: Modern Country Artist of the Year, Male Country Vocalist of the Year, Song of the Year (Another Night Like This) and Music Video of the Year.
In 2019, Laurie received the Male Country Artist award at the same ceremony. The Josie Awards is the biggest international event that rewards the talent of independent artists in all musical genres. With more than 38,000 submissions, the Acadian of Bouctouche, NB was very surprised with the 4 nominations.
On May 18/21 Laurie and his wife Jeannette (his Manager) celebrated their 20th wedding anniversary. For the special occasion, he released the single, I've Never Known from his ECMA 2021 nominated album.
10 years ago he released his debut album, LaPitoune and since then he won many French Awards including Male Country Artist, Socan Songwriter, Entertainer, CCMA Spotlight Performance finalist and fans choice and more.
He also had many nominations over the years such as 35 Canadian Francophone Country Gala nominatios-20 Music NB nominations-11 Josie Music award nominations and more.
For more information regarding Laurie and his music, refer to his website, address posted above.