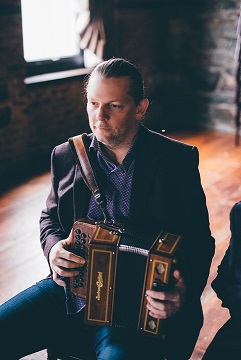 Billy Sutton is an award winning multi-instrumentlist/producer/recording engineer from Harbour Grace, Newfoundland living in St. John's.
His music ability is evident in the impressive roster of musicians with whom he works with.
He plays button accordion, tenor banjo, mandolin, mandocello, Irish bouzouki, acoustic and bass guitar, drums & percussion, fiddle and does vocals.
He is a current member of the multi-award winning band The Fables in St. John's.
He has toured and recorded with such groups as, Ron Hynes, Shanneyganock, The Irish Descendants, The Ennis Sisters, The Matthew Bryne Band, Cardeen, Rum Ragged Band and has recently been recruited to join one of Ireland's most famous bands DANU.
With The Fables, their album, TEAR THE HOUSE DOWN, in 1998 he was co-producer and musician which won the group many awards (MIANL Award Winner)
Billy has won and been nominated for several awards with many well-known Newfoundland groups as engineer, composer ad co-producer.
Billy has been involved in countless CBC Radio & TV productions with a variety of different people.
In May 2020, Billy has released his first solo album entitled, NOT A WORD and is traditional style music with 10 selections.
For more information regarding Billy and his music, got to his website, address posted above.