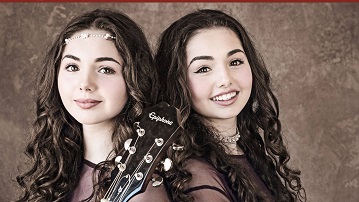 Meet Ava and Lily Rashed singer/songwriters from Charlottetown, PEI.
They are 14 year old twins who are set to take up the torch in a long-time family music tradition. Their grandfather was Country Hall of Famer CHARLIE CHAMBERLAIN, from the Don Messer famous show and their father, DAVID RASHED, the keyboardist for platinum-selling hometown legends, HAYWIRE.
As singer/songwriters, their song WORTH IT have sparked the anit-cyber bullying initative www.lamworthit.com, a program of the StopCyberBullingGlobal campaign.
They are multi-instrumentalists, the talented pair have guitar, piano, fiddle and gango covered. They have also taken to the theatre stage in the musical Anne and Gilbert.
Their first single, OK WITH THAT was released in 2017, accompanied by a video. The release was followed by enthusiastic local media support with coverage by the CBC and the PEI Guardian.
Ava plays guitar and piano and Lily plays fiddle, guitar and piano.
Their first live performance was at the age of 9 at the Confederation Center for a Stop Cyber bullying youth summit.
Their first studio album is set to be released early 2019 summer with all songs written, co-produced and performed by the two sisters.
Most recently, the twins performed at ECMA 2019 in Charlottetown to rave reviews. They have a showcase at Festival of Small Halls on June 17/19 at Corran Ban Community Hall.