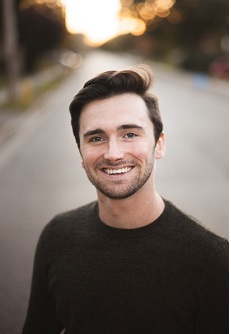 Meet John Muirhead, Indie-folk rocker from London Ontario.John was a nominee for a Canadian Folk Music Award in 2017.
So far in his career, he has released 2 EP's namely: Foundational and Yesterday's Smile. Each EP contains 5 songs each.
John Muirhead's heartfelt indie-folk sound will move you in more ways than one. From fingerpicked folk confessionals to upbeat roots-rock jams. His eclectic song collection reflects the highs and lows of love, ambition, and being a musician.
John is a troubadour by nature and has played in living rooms, theatres, moving trains and folk festival stages across Canada.
His influences are Frank Turner,Neil Young, The Weakerthans and Julien Baker.
John's primary goalis to change the lives of listeners the way music has changed his.
The Canadian Folk Awards gave an honorable mention in the Canadian Songwriting Competition to John. He graced the stages of legendaryfestivals including the Winnipeg Folk Festival and Home County Musicand Arts Festival, and released a follow-up EP, Foundational.
On November 9. 2018, John will release, I Can Sleep Anywhere, a brand new single and music video that reflects on the last two years of touring and performing.
Many favourable reviews have been received from music people regarding John and his music such as; absolutely captivating-a talent for writing-true sense of melody-a voice that sets him apart from other artists-breathes new lifeand vitality into the folk genre-a talented new songwriter.
Foer more information regarding John Muirhead and his music, refer to his website, address posted above.