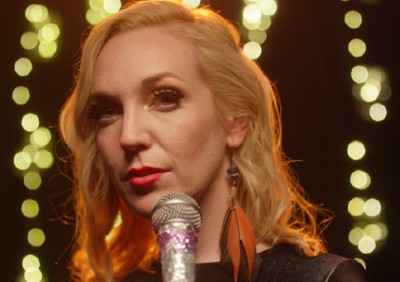 Kinley (Dowling) is a singer/songwriter and multi-instrumentalist from Charlottetown, PEI.
Kinley just received 4 ECMA nominations for Pop Recording-Rising Star-Song (Microphone) and Fans Choice Video (Microphone).
Kinley also won a MusicPEI 2018 Award with Dennis Ellsworth for New Artist of The Year on Jan 28, 2018.
Kinley is a band member of Hey Rosetta based in NL where she was a member for nine years playing vioin and a partner in the Duo of Kinley and Dennis Ellsworth from PEI.
Kinley released her debut solo recording in 2016 entitled, Letters Never Sent. It contains 7 songs. One song, Microphone paint a picture of a boy taking the hand of a girl and leading her to a field, where she was sexually assualted, despite repeatedly saying no. This girl in the song was Kinley. Writing this song, Kinley stated, it helped her work through difficult emotions. This song won her an ECMA 2018 nomination for Song of The Year.
Kinley is the most sought after string player when groups make albums. She has recorded over 50 albums in the span of her career with artists such as, Hey Rosetta, Matt Mayes, Jenn Grant, Two Hours Traffic, Molly Rankin, In-Flight Safety, Buck 65, Classified, Rita MacNeil, Dennis Ellsworth and many more. She made multi appearances with Grammy Winning, Anne Murray.
Kinley toured in Australia, USA, Canada and Europe.
For more information regarding Kinley and her music, refer to her website, address posted above.