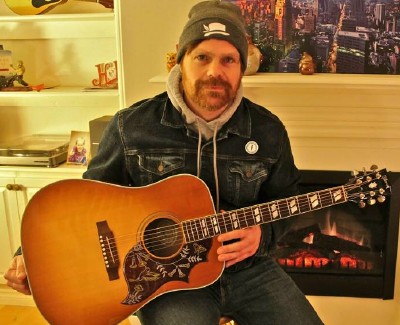 Rick Sparks is an award-winning and musician from Summerside, PEI. He is originally from Kennebecasis, New Brunswick. He moved to PEI in 2003 where he worked as a writer and teacher.
In May 2016 he was awarded the Milton Acorn Poetry Prize at the Island Literary Awards in Charlottetown. In May 2017 he was an award-winner in the creative non-fiction category as part of the Island Literary Awards.
In May 2017, he and his band The Enablers released their debut EP, DIRTY LITTLE LOVE SONGS, and now late in 2017, they are in the studio preparing to release their second album, entitled. The Trouble With The Light.
Their debut EP, Dirty, Little Love Songs blends woodsy, alt. country with edgy rockers; the result is a toe-tappin', heart-pumpin' collection of melancholic anthems sure to give you a major case of the feels. It was recorded and produced by Brent Chaisson at Sudio Dimanche in Miscouche, PEI.
Rick has received 2 MusicPEI 2018 nominations for he and his EP for Male Solo Recording and for Video (Western Wind) of the year. The awards will be given out during MusicPEI 2018 week, Jan 24-28.
Hwe will be performing during MusicPEI Week at The Pourhouse on Jan 27 in Charlottetown.
For more information regarding Rick and his music, refer to his website, address posted above.