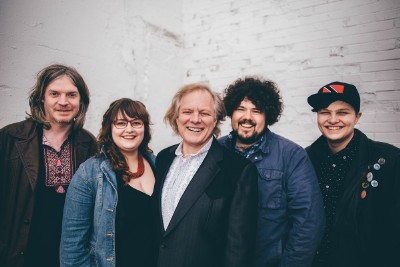 The Kubasonics are no doubt Newfoundland's finest Ukrainian bands in the world of music. They just won 3 MusicNL 2017 Music Awards on October 15/17 for, Folk Group, Fans Choice and Group of the Year for their album, Kubfunland.
This ever-evolving group boldly goes where others fear to tread. Their trademark sound combines top-flight musicianship spiced with quirky humour, a dizzying array of exotic traditional instruments and an electric high-energy stage show.
The band consists of 5 members namely; Darren 'Bootie" Browne, guitar-Maria Cherwick, violin and vocals-Brian Cherwick, accordin, tsymbaly (hammered dulcimer) assorted other Ukrainian folk weirdness and vocals-Matt Hender, bass and vocals-Jacob Cherwick, drums and vocals.
They have performed all over the world including; Trinidad, Montreal, Ottawa, Toronto, Ukraine, Romania, Poland, Slovakia and all over Newfoundland and Labrador.
They have enjoyed many great successes while in the spring of 2017 released their newest recording, Kubfunland, and won 3 NL Awards on October 15. They have been broadcast on four continents with their previous four CD's and featured on national CBC radio and TV broadcasts.
For more information regarding the band and their music, refer to their website, address posted above.