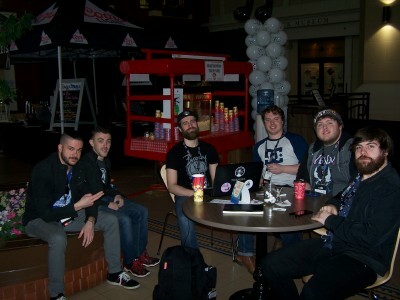 Waterfront Fire are a captivating high enegy Modern Rock from Newfoundland. The group consists of: Andrew Boyd, guitar-Cody O'Quinn, bass-Jordan Coaker, vocals-Ben Thistle, guitar-Ryan Tobin, drums.
In the past 2 years, they have toured Eastern Canada and shared the stage with bands Said The Whale and Blue Rodeo. They received MusicNL Awardsfor Alternatve Recording of the year (2015-First Light) and Rising Star of the Year (2016) and were nominated for Group of the Year (twice, Entertainer of the Year, and Music Video of the year. In 2017 they were nominated for Eising Star Recording at ECMA 2017.
The band has represented Canada internationally in a song-writing exchange program in Trinidad & Tobago, their music video is in regular rotation on NTV and were named to the Breakout Artist program at East Coast Music Week. Their music has been played on national radio and has been featured by CBC radio personality Rich Teryfry.
Rich Teryfry, CBC Radio 2 Drive Host said, Waterfront Fire said, Waterfront Fire is one of the only bands in this contest (CBC Searchlight 2016) that sounds like they are ready to fill an arena.
Watefront Fire's contemporary rock sound is unique to the local music scene. Hooks are cathy, lyrics are well-thought-out, and the sound is overall modern, with each of the guys having a hand in writing the song.
For more information regarding the Band and their music, refer to their website, address posted above.