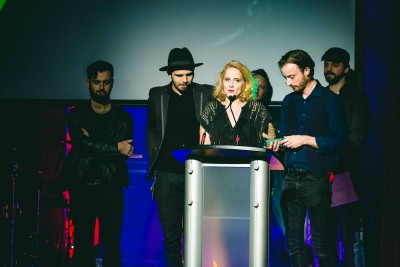 Repartee is an award winning Pop/Rock band from Newfoundland.
In 2009 the band played their first gig in St. John's and since then they never looked back. Since winning 5 music awards at MusicNL in 2009, they have received a number of MusicNL and ECMA awards over the next 8 years.
They just received 5 ECMA 2017 nominations for Group Recording-Pop Recording-Song-Album and Fans Choice.
In Dec 2016 at the MusicNL Music Awards they won 3 awards for Pop/Rock Recording, Group and Album. All these nominations and awards were from their 2016 release, All Lit Up. They are on the Sleepless Records Label.
Band members are: Megan Morgan-Josh Banfield-Nick Coultas-Robin Brett
Repartee continue to establish themselves as one of Newfoundland's hottest exports through the many shows they appear in. They have shared stage with The Trews, Jimmy Rankin, Great Big Sea and many more.
They have already announced some up-coming scheduled performances and they have been choosen to perform at ECMA 2017 at the Gala Music Awards Show on April 27 in Saint Joihn, New Brunswick.
For more information regarding Repartee and their music, refer to their website, address posted above.