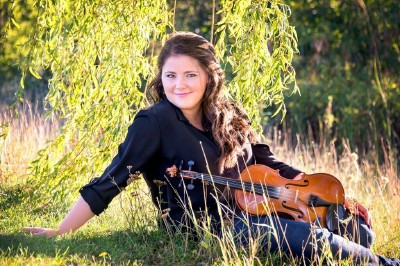 Christine Melanson is a young music artist from Moncton, New Brunswick. She plays fiddle, piano, bodhran and is a poet and a playwright.
She has been just nominated for an ECMA 2017, for her debut CD entitled, Constellations, in the category, Traditional Instrumental Recording of the Year.
Her driving fiddle style and engaging on-stage personality have had her performing at many events and festivals in Ireland, France, the US, and across Canada. Inspired by her fiddling grandfather, she started fiddling at the age of 4. At the age of 9, she performed for Queen Elizabeth, and in 2012 for Prince Charles and his wife Camilla.
Christine was invited to compete at the prestigious Canadian Grand Masters Fiddling Championships on many occasions. She has also been wowing audiences with her talent on piano and bodhran, and is regularly recognized for her work in the field of literature (Antonine-Maillet Prize in 2014, poet in residence for the Frye festival in 2016).
Christine has been featured on many recordings, and she has one solo album, Constellations (June 2016) to her name.
For more information regarding to Christine and her music, refer to her website, address posted above.