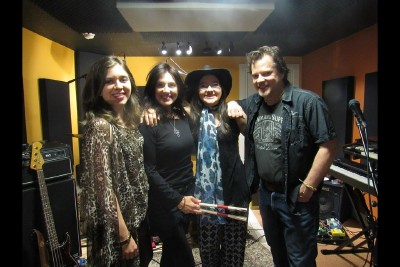 The Argues are an independent Canadian family band from Springwater, Ontario now living in Barrie, Ontario. They are comprised of Dad, Mike-Mom, Chantal-daughters, Lauren & Sabrina. They were formed in 2010 as an indie roots-rock formed band and have performed at countless festivals, theatres, ribfests, bars and corporate events.
Fronting the band are sisters Sabrina and Lauren Argue, who both sing and play a variety of instruments. They are serious musicians and songwriters and it is their individual personalities, along with those of their band-mates, drummer Chantale and guitarist Mike, that inspire the bands unique original sound.
The band released their debut album entitled, Something New on Nov 3, 2016 containing 6 songs. The album is now played on over 50 radio stations in the USA following its pre-release this past summer 2016.
Many comments regarding the band and their music is very favourable such as -an Updated Cowsills band and the Partridge Family. They really rock, playing classic rock and blues- they are very cool.
They have shared the stage with Torrez and The Sugar Devils, JW Jones, Jack DeKeyzer and The Five Man Electrical Band.For more information regarding the band and their music, refer to their website, address posted above.