Kevin Collins
, is one of the most respected
singer/songwriters
from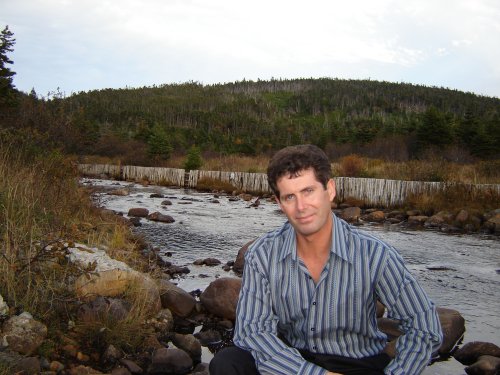 Newfoundland. He was raised in a musical family and has
strong Irish roots from Ireland
. He began singing at 6 years old and in public at 13. His father Tony was a country singer for 25 years. Unfortunately, Tony died on July 1, 1990 of a major heart-attack. Kevin has
four brothers
and
one sister
. who all have musical abilities. Kevin is married to
Roseanne Pomeroy
.
Kevin first visited Ireland in 2003 and promoted his music everywhere and he went over so well, he was invited back several times. His music is now heard all over Ireland and his music is recorded by a number of artists in Ireland. Kevin's country CD entitled, Jump In & Swim, was named CD of the month in Country Music Roundup Magazine in Britian. Kevin has released six Irish/Newfoundland CD's, four Country CD's one Gospel and one Christmas CD. He owns an operates Sawyer Hill Productions, a 32 track digital recording studio which is making its own mark in history in Newfoundland. It boasts state-of-the-art digital equipment that boasts wonderful production and quality. Kevin records several other artists as well as completing his own releases.
Kevin toured Canada from coast to coast, toured Ireland in 2004 and traveled to Nashville and recorded his sixth country CD entitled, Wildfire in 1996. In 2005, Kevin won Songwriter of he Year at the Country and Irish Music Magazine Award Show in Kildare, Ireland. Kevin received several nominations and awards throughout his musical career. He has been featured on many television and radio shows, and performed on many important shows such as, The Juno Feast week in St. John's-the One Year anniversary of Mile One Stadium and many others.
He was nominated for Best Country Artist at 2004 East Coast Music Awards. Kevin's motto is Newfoundland is a place where hospitality and friendship is NOT a business but a way of life. He believes in playing his part to make this world a betterplace to live, and plans on giving life is best. For more information regarding to Kevin and his music, refer to his website, address posted above.
In 2006, Kevin signed with ROSETTE RECORDS of Europe and they have now released a CD entitled, THE COLLECTION and a DVD entitled, FROM AN ISLAND TO AN ISLAND, VOL 1
In September 2007, ROSETTE RECORDS, released 2 new compilation CD's entitled, THE ESSENTIAL IRISH COLLECTION-40 SHADES OF GREEN and INTERNATIONAL FAVOURITES in which Kevin Collins is included.