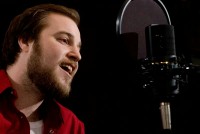 Brock Zeman
is a gifted singer/songwriter from a small town of Carleton Place near Ottawa, Ontario is often
compared
to such greats as
John Prine, Guy Clark
and
Steve Earle
. He is only 21 years old and possesses
a rare talent for lyrics
, and a
compelling voice
to deliver them.
He just released his 3rd release entitled, Brick Zeman & The Dirty Hands who had a helping hand of Keith Glass (of Canadian Country's legendary Prairie Oyster). He has elbowed his way onto the roots music scene as a powerful singer/songwriter, with his gritty story-telling delivered through a compelling voice.
His 3rd release, is a sort of middle ground between his previous 2 releases, (Cold Winter Comes Back & Songs From The Mud). With the energetic playing of the dirty hands (Keith Glass, Peter Newsom, Kevin Sullivan & Peter Bigras) backing Zeman's songs & stories, this album comes off as a very complete and well written singer/songwriter record.
This new CD, falls directly into the alternative country/Americana/Canadiana category. The CD has some of Canada's finest musicians provide the music namely; Dennis Delorme, steel- and Keith Glass, guitars and bass, ( from Prairie Oyster) , Peter Newman, Peter Bigras, Kevin Sullivan and Joel Williams.
Brock is certainly is a rising star and he can be seen and heard at many venues this summer including; Summerfolk Festival in Owen Sound on August 18-20 and many other venues in and around Ottawa-dates all posted on this website. To purchase Brock's music, click into Brock's website, address posted above or www.compactmusic.ca or www.mymusic.com.