Meet
Enter The Haggis
, an explosive
Celtic-rock quintet band
based in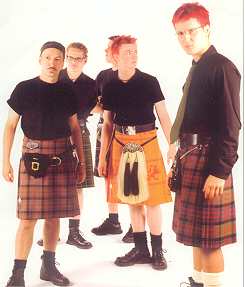 Toronto, Ontario. The band
combines
the
traditional sounds of the highland bagpipe
and
fiddle
with a powerhouse rhythm section and strong vocals to creat an infectious hybrid of old and new. Their
raucous live show
has made them a
favourite at festivals
and
clubs
across North America since their conception in 1996.
Enter The Haggis
makes
new friends everywhere they land
. In fact, they are invariably
the top selling act
at every festival they play. And
fans just can't get enough
of Enter The Haggis.

Meet the band: Brian Jonathan Buchanan born in Ottawa does vocals, fiddle and acoustic guitar-Craig Crog Dowie born in Glasgow, Scotland does vocals, highland pipes, deger pipes, acoustic guitar and tin whistles-Trevor Sidney Lewington born in Toronto plays electric, ascoustic guitar and vox-Mark Andrew Abraham born in Hamilton plays bass guitar and vox-James Matthew Campbell born in Sault Ste. Marie plays drums.
The band made its debut at Toronto renowned NXNE Music Festival in 1996 and has never looked back. In June of 1998, the band released their first full-length CD entitled, Let the Wind Blow High and since released Aerials in 2001 and Enter The Haggis -Live in 2002. They will be releasing a new album April 2004 entitled, Casualties of Retail.
Enter the Haggis had many highlights throughout their career thus far including appearing on stage with many popular artists and made many television and radio appearances. They have appeared in many music festivals across North America including in Florida, New York, Pennsylvania, Virginia, Massachusetts, B.C., Ontario, Saskatchewan, and Alberta to name a few.
This year 2004, is looking good for the band, with the release of their new CD they are already booked for several festivals such as, The Sound of Music Festival, Burlington-Canadian Tulip Festival in Ottawa, Niagara Folk Arts Festival in St. Catharines and Summerfolk Festival in Owen Sound. For further information regarding the band and their music, check their website, address posted above.