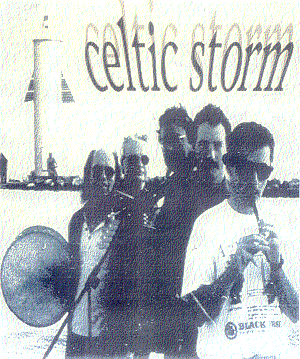 Celtic Storm has been playing the Southern Ontario Region for over two years. They are gaining a long line of followers whereever they go.
They perform cover versions of the more Celtic Pop Artists, such as Spirit of The West and Great Big Sea. The cover versions are mixed with a hearty brew of traditional Newfoundland step dancing tunes, jigs and waltzes from the currently rich and diverse South Coast of Newfoundland.
The Group members are as follows:
Gord Drake, plays accordian and hails from St. Lawrence, Nfld.
Dean Terrant plays guitar, bodram, spoons and penny whistle and hails from Lawn, Nfld.
John MacAdam, leader of the group, plays guitar and does vocal work
Dave Thompson plays acoustic
Rob Duffus plays drums.
Celtic Storm, is a group of hard working musicians who bring a little of the East Coast to any event here in Southern Ontario. So clap your hands, stomp your feet and get ready to sing, because the Storm is blowing your way.