Kendra MacGillivray
, a 28 year old Antigonish. Nova Scotia fiddler, is taking center stage in the fiddling music world. She had listened to her grandfather, the late
Hugh A. MacDonald,
a famous fiddler and a pioneer in recording
Scottish fiddle music
in the 1930's, play the fiddle since she was four years old, and did her first solo when she was ten. Her grandfather was known as
the polka king,
and this fine music has influenced
Kendra
immensely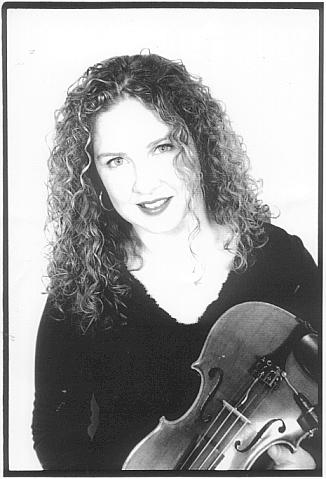 . Today,
Kendra
is performing across
Canada
and the world. She has charmed audiences in
Scotland, Germany, Amsterdam, Luxembourg, Iceland, Barbados, Australia, Japan, Mexico
and
United States
. She performs at festivals, corporate functions, dance halls and pubs. Her talents appeal to audiences of various tastes and sizes.
Kendra,
as well as being a talented Musican, she has been
teaching fiddling
and
stepdancing
at well-known institutions for 12 years. Over the years,
Kendra
has performed with many well-known musicans such as,
Michael Burgess, Alasdair Fraser & Skyedance, Lunasa's Sean Smyth, Evans & Doherty, John Allan Cameron, Dave MasIsaac, Natalie MacMaster, Ashley MacIsaac,
and
Richard Wood.
She has opened for major acts like,
The Rankins, Great Big Sea
and
Crash Test Dummies
to name just a few.
Kendra loves to perform at festivals, and has performed at many: Fiddles of The World International Festival, Celtic Colours International Festival, Stan Rogers Folk Festival, Vancouver Celtic Festival, Expo 2000 Hanover Germany and the Washington DC Irish Folk Festival to name a few.
Kendra has just released her latest CD, *Over The Waves*, on which she delivers her personal version of tunes of the past and present, of her own and of those she admires. It contains lively polkas, sentimental waltzes, jigs and reels. Both her sister Sabra and her brother Troy, help Kendra to make beautiful sounds on the CD. Kendra just completed showcases at ECMA 2001, in Charlottetown, P.E.I. to standing ovations wherever she performed. Background music, never! Liveliness, exuberance and sheer love of playing pervade Kendra's music wherever she plays. Whether on her own or accompanied by talented family members, Kendra MacGillivray thrills audiences and always leaves them wanting more. For review of her new CD , Over The Waves, check this website under New Releases. (by john gavin)