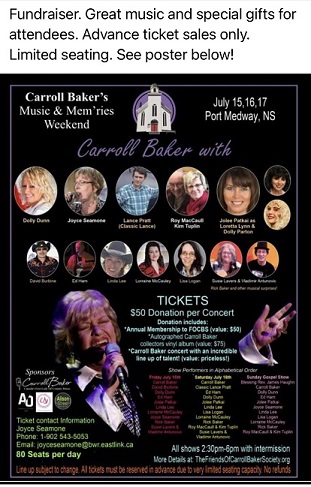 Carroll Baker's Music & Mem'ries Weekend takes place on July 15, 16 and 17, 2022 in Port Medway, Queens County, Nova Scotia.
Carroll Baker grew up in Port Medway, and as time went on, Carroll became Queen of Country Music in Canada.
The former Baptist Church was purchased by Carroll a couple of years ago in order to keep it from being demolished or have it turned into something completely other than what it was built for (to remain a church).
Carroll was living in Ontario and she found it difficult to organize the undertaking, so The Friends of Carroll Baker Society was formed and they have become caretakers of the Church Center which has been renamed Carroll Baker Mem'ries Center.
The Society is Non Profit and relys on Donations and Fund Raising Efforts. Carroll along with family members, friends and fans raised $50,000 for the society.
The Church will be home to showcase Carrroll's Awards and her memories growing up in Port Medway, NS. The building will remain a place of non denominational worship and open for weddings and funerals as well.
A great source of income for the Center will be memberships for the Society and special perks for each member.
The Grand opening is July 15/22 and special festivities will take place with music artists from Atlantic Canada, Ontario and Ireland over the 3 days. Visitors will be able to tour Carroll's Career Showcase as well. All shows over 3 days begin at 2:30 pm.Friday is the Grand Opening with mostly Country music, Saturday will be Classic Country and Sunday will be inspirational and Gospel Music.
Tickets are $50 each day including annual membership to TFOCBS value $50 and a collectors vinly album autographed by Carroll value $75.
Seating is limited to 80 seats per day and to purchase tickets, call Joyce at 1-902-543-5053.
Lots of parking and RV spots nearby.See the enclosed poster for more info and all the participating music artists.
(Carroll Baker Mem'ries Center)
Artists taking part in te event:
David Burbine (NS)-Dolly Dunn (NB)-Ed Ham (Ont)-Jolee Patkai (PEI)-Linda Lee (NB)-Lorraine McCaulley (Ireland)-Rick Baker (NS)-Joyce Seamone (NS)-Classic Lance Pratt (NS)-Susie Laver & Vladimir Antinovic (Ont)-Roy MacCaul & Kim Tuplin (PEI)-Lisa Logan (PEI)-Cliff Austin (Ireland)-Rev James Haughn (NS)