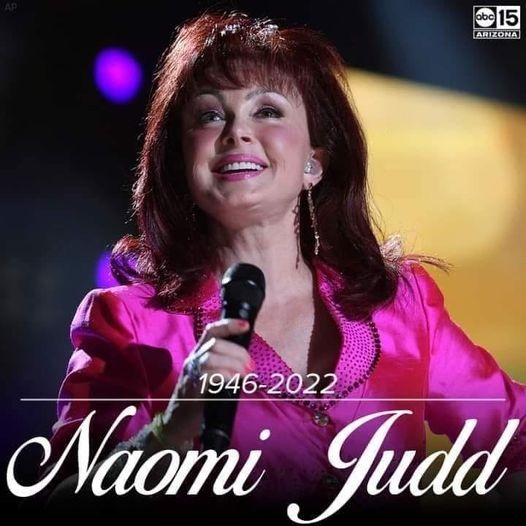 The Country Music Industry and Country music Fans were shocked on April 30/22 to learn the death of Naomi Judd of the famous legend duo The Judds who passed away on April 30, 2022.
The Judd family released the sad information and explained that Naomi was lost to the disease of mental illness. Information released that Naomi developed depression, anxiety, panic attacks and tremors after their last farewell tour in 1991 and discovered she had hepatitis C. They disbanded due to Naomi's illness in 1991
Her last appearance was on April 11, 2022 on the CMT Music Awards with Wynonna, 2 weeks before her death.
The Judds released 6 studio albums in their career since forming as a duo in the early 1980's. They went on to become one of the most successful acts in country music history, scoring 20 top 10 country hits (including 14 No 1's, eight of which were consecutive):winning 5 Grammy's, 8 Academy of Country Music Awards and 9 Country Music Association Awards; and selling more than 20 million albums.
After they disbanded, they went on a successful farewell tour that was top-grossing tour of that year and was the most successful musical event in cable-pay-per-view history. They made some high profile performances at Super Bowl XXVIII, Stagecoack festival in 2008 and the All in for the Gambler concert, the final concert by Kenny Rogers.
Last August 2021, the Country Music Association announced The Judds would be inducted into the Country Music Hall of Fame. Ironically, the date set was May 1, 2022. but Naomi passed away on April 30. The family insisted that the Induction must be held and it will go ahead.
Comments from the Hall of Fame were, that Naomi became incredible adversity on her way to a significant place in music history. Her triumphant life story overshadows today's tragic news.
Earlier this year, the Judds planned to do a mini-tour late this year 2022 and were looking forward to perform for all their fans.

Naomi's last Interview & Performance
at the CMT Music Awards
on April 30, 2022