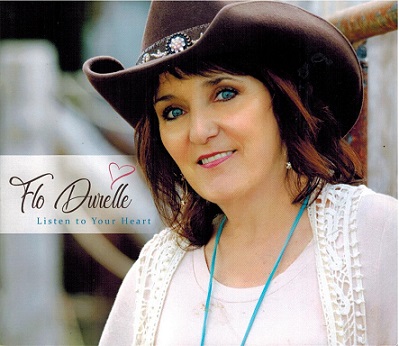 Flo Durelle is a country music artist from Dieppe, New Brunswick.
She was born in Baie Ste Anne, NB. the youngest of 5 children.
She began singing at age 5 and hasn't stopped singing since. During her career she toured across Canada and recorded several songs and released albums.
Flo is known for her strong vocal style, bubbly personality and her love of traditional country music.
In 2016 she recorded a solo album entitled To Daddy.
One song on the CD was written by her uncle Marc Durelle called Haunting Memories and the first single made to No 1 on the countdown as did a song co-written with Linda Arsenault entitled Ma Chere Maman.
Another song on the CD was a duet with country music legend the Late Johnny Burke entitled You Ain't Dolly and You Ain't Porter.
A follow-up CD entitled Listen To Your Heart was released in 2019.
The CD contains 12 songs and the titles Are:
Walk Out That Door-On The Dying Side of Love-Mon Bien Aime
Take A Ride-Listen to Your Heart-La Dispersion-Carmelita
Daddy's hands-Love Is A Rose-The Boxer-Here Comes Trouble
Mon Accent de la Mer
Many fellow musicians helped Flo with the music namely:
Marcel Leger-Gerald Delhunty-Scott Delhunty-Andre CoCo McGraw
Ray Legere-Joel Robichaud-Beverly Theriault-Linda Arsenault
Danny Bourgeois
The CD is a real traditional country music one and it's a great listening CD and Flo's voice is superb and she sings all songs from the heart.
Atlantic Seabreeze gives this fine CD a full 5 star rating out of 5 stars.
To purchase this CD, e-mail Flo at the above e-mail address of pick up at her shows in her area.