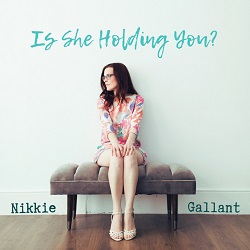 Nikkie Gallant Releases New Single, Is She Holding You from Album, SUBTLE MOTIONS
Nikkie Gallant is a songwriter, Performer, Vocalist and Potter from Summerside PEI.
Nikkie had released 2 previous albums: Blue Roses in 2000 and When You Find it in 2005.
She will be releasing later this year 2021 her third album entitled, Subtle Motions producedby Summerside's music award winning artist Nathan Whiley. Nathan plays drums and piano on the released song, Is She Holding You as well PEI's music artist Kinley Dowling on violin and Viola.
The album is an exploration of the complexities of relationships and of life. You will find this new album is a more adventurous than her previous two and takes the listener on a journey.
The album opens with a song refecting the end of an unhealthy situation, proceeds with the unfolding of new feelings (with all of the lovely longings involved), it the takes you through the crushing twins of heartache and grief.
With a synth-driven pop sound, Subtle Motions takes Nikkie's emotionally-smart music to new heights.She writes and performs heart-aching music featuring lush sounds and tremolo-laced guitar sounds.
Her songs have earned her multiple Music PEI Award Nominations including Songwriter of the Year.
The first song released from the album is titled IS SHE HOLDING YOU. The song reckons with the fear of loosing a connection. She found herself exploring the acute pain that comes with realizing that you're aching for something you thought you already had. She says, maybe in the song it's a relationship role, but it could be any identity we're clinging to that might not ring true at the time.
Watch for Nikkie's great new song on radio near you and if not request to the radio station in your area.