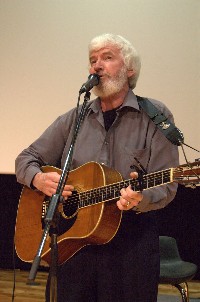 Dermot O'Reilly was a musician, producer, songwriter, pioneer, mentor and one-third of the legendary Celtic Folk Band, Ryan's Fancy.
He passed away on February 17, 2007 at age 64 of an apparent heart attack.
He was a native of Ireland who had called Newfoundland home for the past four decades.
He was respected by musicians in all genres of the industry.
He had undergone emergency quintuple bypass surgery in 2005 after suffering a heart attack, but recovered and had since returned to a regular performing schedule.
The night before he passed away, he performed at a local club in St. John's in which he opened for the famous Rankin Family.
After performing with Ryan's Fancy for 12 years he got involved with video production and formed his own company called Piperstock Productions.
While performing with Denis Ryan and Fergus O'Byrne from Ireland, they recorded 12 Vinyl records under the Ryan's Fancy name and performed countless concerts and TV shows across Canada. While been involved at his Piperstock studio, 25 CD's were produced at his studio before his death.
After Ryan's Fancy disbanded in 1983 Dermot went solo performing at clubs, concerts and festivals. He even produced a CD of his own.
He was an icon of Irish music in Newfoundland and Labrador and made a profound contribution to the music industry in Newfoundland.
For more information regarding Dermot and Ryan's Fancy, go to their website address posted above.