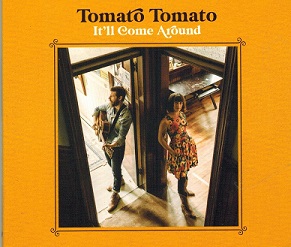 Tomato Tomato, a duo group (John and Lisa McLaggan) from New Brunswick are set to release their 5th CD entitled, It'll Come Around on November 20, 2020.
They are Atlantic Canada's most entertaining duo and their new CD is a high energy album that feels as comfortable as it does fresh-bringing the sound of vintage rock'roll to the fore with a brainstorming new roots/rock record.
The duo have received nominations from ECMA, Music/Musique NB in the past and the Canadian Folk Music Awards, winning awards for Group Recording of The Year, Socan Song of the year, and a well-deserved Hardest Working Artist Award.
They have recorded the album John McLaggan in Nashville to record with producer, engineer and multi-instrumentalist, Jon Estes and an amazing group of Nashville based musicians. They returned home in NB where they recorded their vocals and finished the album.
The album contains 12 songs and the titles are as follows:
It'll Come Around - Chasing Rainbows - Better At Leaving - Everyday
Roadside Attraction - Make A Change - My Stupid Heart - Kicking and Screaming
Waltzing Out of Time - Ophelia - Sun Moon Stars and Rain - Nothing Left.
John McLaggan wrote 11 songs on the album while the other song, Everyday by Buddy Holly.
John helped Jon Estes to produce and mix the album. John and Lisa provided all vocals, while John played guitar along with the Nashville musicians and Lisa played percussion
This album is one of a kind and very entertaining and Atlantic Seabreeze gives the album a 5 star rating out of 5 stars.
For more information regarding this album, go to their website address posted above.