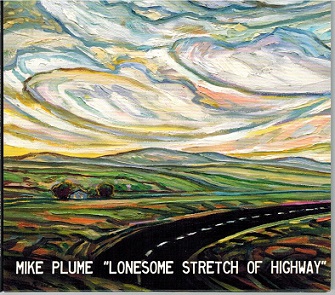 Canadian Roots singer-songwriter MIKE PLUME born in Moncton, New Brunswick now living in Western Canada recently released his 12th album entitled, LONESOME STRETCH OF HIGHWAY.
He has been in music for over 25 years and released 12 albums. His first album in 1993 was entitled, Songs From a Northern Town. In the 1990's he routinely played more than 200 shows a year and shared the stage with Blue Rodeo, Cord Lund, Steve Earle, John Hiatt and The Mavericks.
Mike signed with Royalty Records in early 2020 and released his 12th album entitled, Lonesome Stretch of Highway. The album contains 10 songs namely:
Way Down Yonder Is A Little Piece of Land-I'm Your Huckleberry-Perfume and Gasoline-Summers Around Here (Don't Last Forever)-Younger Than We Are Today-The Sweet Passing of Time-In God's Hands Now-It's A Long Long Way (featuring The Road Hammers)-That's What I'm Talking About.
The CD was produced by Marek David and recorded by Scott Franchuk.
Plume has long been known for his richly detailed storytelling style and unyielding devotion to rock and roll's original spirit. That's all present on this album, powered by Plume's earthy uncompromising voice. That combination is proof that one of Canada's most accomplished singer/songwriters remains at top of his game and is ready to hit that highway again.
Mike and his band have travelled many miles around the globe performing and touring with many artists and lessons from the travelling have left an indelible mark on his new album.
Atlantic Seabreeze gives this album a 5 start rating out of 5 stars
For more information regarding Mike Plume and his Music, refer to his website, address posted above.