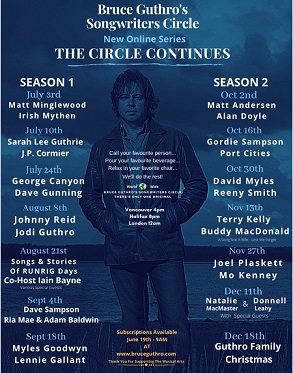 Hi folks… settle in, this will be a long one!

So, I know I've been pretty quiet for the last couple of months, but I've been very busy behind the scenes. With the exception of a couple of possible smaller shows, pretty much every show I have this year has been cancelled or postponed. I think we all know that we in the entertainment world will likely be the last people to get back to 'normal' work, and that could be some time to come.

I felt compelled to dive in and find a way to create some kind of 'new normal'. One that can reach people all over the world and that involves my musical friends. One that rides on a brand that I've built for over 20 years, working to establish a place of trust and familiarity for many. One that I can use to, not only make my own living, but offer some work to those around me in a similar position.

Covid 19 has stolen our ability to perform for you live. I don't blame anyone for that, it is what it is. Although we all have differing opinions on re-opening the world, personally, I'm happy to stay away from the danger of this horrible pandemic until a vaccine is found. I don't want it anywhere near me.

So, to get to the point, and make a long story longer ☺ I'd like to officially welcome you to our 'new normal'… (Below) The new 'Bruce Guthro's Songwriters Circle' online series THE CIRCLE CONTINUES

I'm extremely fortunate to have some amazing musical friends willing to step up and agree to be on the show. It is absolutely STACKED!

Imagine... it's Friday night, you have a couple friends over who are in your 'bubble'. You get your favorite drinks and settle in to watch the show as it runs to you LIVE!, no editing, no safety nets, you hear it as we sing it. Truth is, there's a great chance the drink in your hand would cost you more than the show you're watching. Yep, that's what I said, based on 4 people watching around your TV, a ticket would be less than $5 Canadian per person tax and services in!!! Simply the best deal in the world right now!

Just think… three or four artists walk into your living room, sit down in your chairs and start telling stories about the songs they wrote, what they mean to them, where they came from… and then in turn, they sing them to you… and it goes around again and again and again!

We also need theatres to perform in, when we come out on the other side of this pandemic. They are certainly up against it right now as much as we artists are. It's with great pleasure that the BGSC series is happy to work with 'Atlantic Presenters Association' as a working partner in this endeavour. If you purchase a Season Ticket and make us aware of the Theatre you're affiliated with while registering… we will donate 15 of your Season Ticket price back to that Theatre! I plan on hearing many funny and touching stories, laughing out loud, singing my heart out, and listening to some of the best songwriters, singers, and players this world has to offer. I sure hope you'll join us.

Thank you for taking the time to read this, if you end up purchasing season tickets for either or both seasons, thank you for supporting the musical arts! I hope we come through this mess with a new awareness of how fragile we are, and more importantly, how alike we all are. Stay safe!

Bruce Guthro

BRUCE GUTHRO'S SONGWRITERS CIRCLE!

There's Only One Original...
www.AtlanticSeabreeze.com