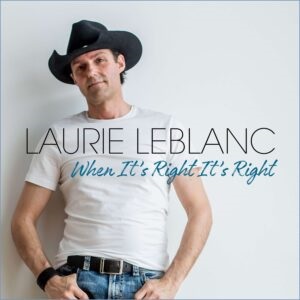 CCMA Spotlight Performance Contest Finalist and 2019 Socan Songwriter of the Year, LAURIE LEBLANC from Bouctouche New Brunswick has just released in June 2020 his 7th album entitled, WHEN IT'S RIGHT IT'S RIGHT.After a decade of success as a French Singer-Songwriter, the Bouctouche, NB Artist feels the timing is right to record his first all-original English Album.
All the stars have aligned for this project and the JMA Country Male Country Artist of the Year 2019 is ecstatic to present his new album.
The album contains 10 tracks namely:
When It's Right It's Right - Where Gone Girls Go - The Bigger The Better - Another Night Like This - Belle of The Ball - I've Never Known - That's What I Love About Us - All In - I'm That Guy - I'm In Love
The album was produced by Multi-Award Winner Jason Barry who also produced Dean Brody, Charlie Major, Terri Clark and Jason Blain. Studio musicians include: Jason Barry-Lyle Molzan-Mark McIntyre, Scott Galloway, Melissa Barry and Fiddle Player Ray Legere. Harmonies on the song The Bigger the Better by Don Mescall.
Laurie and his wife Jeannette wrote the song, All In.
This CD is a Gem one and Laurie shines throughout the whole album. His voice is real traditional Country Music and is a welcome one in the days of non-traditional country music.
A great choice of songs for Laurie's first English album. Atlantic Seabreeze gives this album a full 5 Star Rating out of 5 Stars. We for see NB Music and ECMA 2021 nominations.
For more information regarding Laurie LeBlanc, refer to his website address posted above.