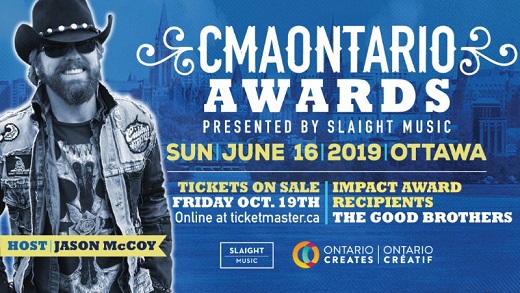 The Country Music Association of Ontario (CMAOntario) announced its 2019 winners. The awards were held on Sunday, June 16, 2019 in Ottawa, Ontario.
The major winner was Meghan Patrick with five awards.
Here are the winners:
Meghan Patrick-Female Artist-Fan's Choice-Music Video-Album-Songwriter
Tim Hicks-Male Artist
The Reklaws-Group and Single (Feels Like That)
The Abrams Brothers-Roots Artist
Jade Eagleson-Rising Star
Gabrielle Goulet-Francophone Artist
Jeff Dazeil-Producer
Ron Kitchener-Industry Person
Good Brothers-Impact Award
Cadence Grace-Generous Spirit Award
The awards weekend will be held in London, Ontario in June 2020.
MEGHAN PATRICK-5 Awards Winner