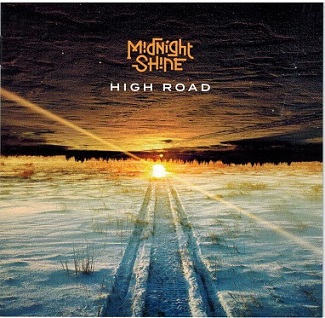 Midnight Shine is an aboriginal band from James Bay, Canada.They have released in spring of 2018 their third album entitled, High Road, follow-up to their last album entitled, Northern Man.
The band is turning heads with a sound that seamlessly mixes roots, classic and modern rock. Their music is anchored by eloquent lyrics and heartfelt vocals that share a glimpse of life in the far North.
On the High Road album, you'll hear hand-drumming, lyrics sung in Cree, even a little creatively-placed pow-pow. The result is a roots/rock band pushing musical boundaries and boldly taking new strides, while staying true to who they are and where they come from.
Adrian Sutherland, lead singer is a self-taught hockey player and offered a spot in the 2017 Juno Cup in Ottawa. He is fluent in Mushkegowuk Cree,his native language.
The CD contains 10 tracks and here are the titles:
Leather Skin - Cold Walker - High Road - Velocity - Survivor
Words I Could Have Said - Heart of Gold - Lonely Boy - Sister Love
I Need Angels
CD Producers were John-Angus MacDonald (The Trews) recorded seen songs at Jukasa Studios at Jukasa Studios in Six Nations and Tim Vesely (Rheostatics) recorded two tracks at The Woodshed in Toronto (studio owned by Blue Rodeo).
Three songs on the album reached #1 on the Indigenous Music Countdown (Sister Love, In The Midst, Northern Man)
A very nice album by Midnight Shine, and the Band sounds great and their music is outstanding. Atlantic Seabreeze gives this album a 4 star rating out of 5 stars.
For more information, regarding Midnight Shine, go to their website, address posted above.