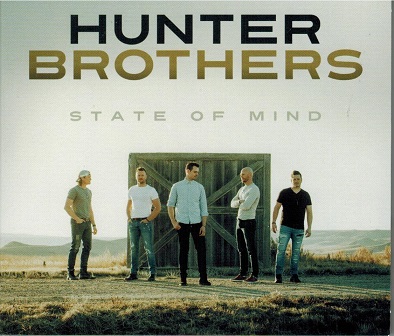 The Hunter Brothers from Shaunavon, Saskatchewan have released their Sophomore Album, State of Mind in early 2019.
They started 2019 off with the No 1 Canadian selling album for 3 consecutive weeks since release. Their single, Lost, became their 3rd top 10 hit. Their earlier hit from their first album, Born & Raised, recently being selected as the Anthem for the 2018 IIHF World Junior Hockey Tournament.
The group consists of 5 brothers Luke, J.J., Ty, Brock and Dusty. The Group were recently part of The Journey 2019 Tour alongside, Paul Brandt, Jess Moskaluke and High Valley.
The CD contains 12 songs and here are the titles:
Country State of Mind - Lost - Want - Silver Lining - Next Year - Day Off - Train - I Still Fall
Natural - Lonely - Northern Lights - When You Love A Girl.
The CD was produced by Seth Mosley, Mike X O'Connor and The Hunter Brothers.
From their first album, their debut single, EL Dorado in February 2017 debuted on The Billboard Canada Country Charts in March 2016.
The 5 brothers all played hockey in various leagues, Junior and Professional, each one sustained various injuries and they gave up hockey and returned to theirfather's 20,000 acre farm in Sask.
However music was in their blood and they got involved working on their debut album.
The Hunter Brothers were 4 time CCMA nominated and won 3 times at The Sask. Music Awards for their music.
Their new album sounds great and will be a winner says Atlantic Seabreeze. They have outstanding harmonies and deliver the songs to a tee.
We give this album a 5 Star rating out of 5 Stars on its rating list.
For more information regarding The Hunter Brothers and their music and tour, refer to their website, address posted above.