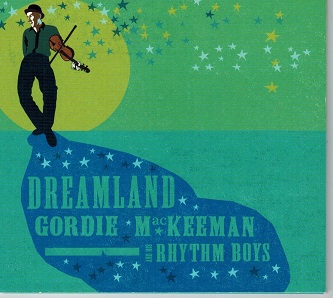 Gordie MacKeeman and His Rhythm Boys have just released in April 2019 their fourth CD entitled Dreamland. The band is based in Prince Edward Island.
There is no other band out around like the band. Band members are Gordie MacKeeman (crazy legs) , fiddle, guitar, drum kit,and vocals-Peter Cann, acoustic and electric guitars, banjo, steel guitar and vocals-Thomas Webb, stand-up bass, guitar, banjo, steel guitar and vocals-Jason Burbine, drums, bass, guitar and vocals.
The result is an electric signature sound that draws upon bluegrass, old time country, folk, rockabilly, swing, Celtic and other styles in genre-defying fashion.
The CD, Dereamland, contains 13 tracks and here are the titles:
Just Want To Be Loved By You - Four String Polka - Stop, Stop, Stop
Strength in Numbers - Like It That Way -Dreamland - Morning Train - Honey
Run With Us - Western Reel Medley - Sittin' In A Bar - Said Too Much - Why I'm Right
The CD was produced by R. S. Field.
Dreamland is an album that moves from highlight to highlight, showcasing everything the band has to offer.
From the Cajun rocker , Sittin ' In a Bar to Classic country sounds in Strength in Numbers to the beautifull lullaby of the title track, the group is showing their writing skills match their playing talents. There is also a fiddle and banjo-fired version of the old 60's hit by the Hollies Stop, Stop, Stop and beloved PEI songwriter Gene MacLellan's, Just Want To Be Loved by You. big surprise is a mysterious number that turns out to be , Run With Us, the theme song from the 80's Canadian cartoon classic, The Raccoons.
During their career thus far, they won many awards and recognitions with 12 Music PEI Awards and ECMA Awards for their albums in 2015, 2013 ad 2011.
What an outstanding album says Atlantic Seabreeze and we forsee many more nominations and awards for this album in the upcoming year in 2020. We give this album a full 5 star rating out of 5 stars on our rating list.
For further information regarding the band and their music, refer to their website, address posted above.