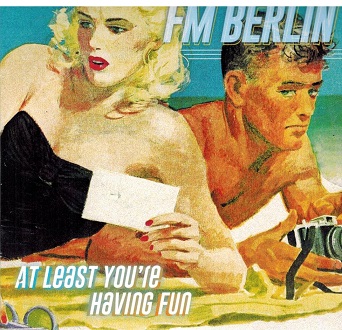 FM Berlin is a four piece alternative Rock Band from Moncton, New Brunswickwho sound like The Police and The Strokes.
They released their CD entitled A Least You're Having Fun in July 2017and it has been nominated twice for an ECMA 2019 Award for Rock Recording and Rising Star of the Year.
There are 9 songs on the CD and all written by the band.
Here are the song titles:
Yer Honour - All Again - TV - At Least You're Having Fun - Plasma TVsHate Your Neighbour - Ransom - Outta Your Head - Haligonia
The CD was produced by Jason DuFour, Josh Bowman and the Band FM Berlin.
The 4 band members are:
Corey Hachey, main vocals-Matt Clowes, guitar & vocals-Glen Farquhar, bass, vocals-Nick Michaud, drums,vocals.
The band won 2018 Rock Artist of The Year at MusicNB.
In 2016 the Band received Bell Media Prize for Canada's Incubator(with an on going career mentorship and industry connectivity.)
The band sounds great on the CD, the music is catchy and vocals are excellent, and one can see why the CD was nominated for the Rock recording of the year at ECMA 2019.
Atlantic Seabreeze gives the album a 4 Star rating out of 5 stars.
For information regarding the Band and their music, refer to their website,address posted above.