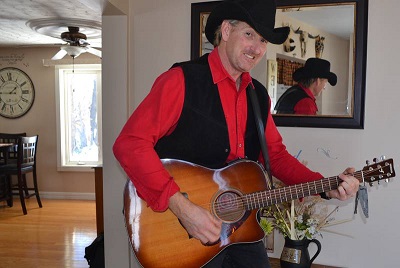 Chad Matthews, Stompin' Tom Impersonator, from PEI,
will be performing in Toronto, Ontario in February, 2019. Matthews,
who played Stompin' Tom at the dinner theatre in Skinner's Pond,
PEI at the Stompin' Tom Center for the past 2 years will portray
the legendary PEI singer during 3 shows with renowned tenor
John McDermott in Toronto at Hugh's Room, February 7, 8 and 9.
Chad performed as Stompin' Tom through two dinner theatre
seasons in Skinner's Pond in My Island Home and A Stompin' Tom Story.
In 2017, there were 12 shows scheduled, but the demand was so high for
dinner theatre tickets with a long waiting list the show continued with 26
performances in front of 2,500 dinner theatre audience members. In 2018
the center added a second show called, My Stompin' Grounds-A Stompin'
Tom Story and Mathews went on to peform as Tom in 42 more shows in
front of 3,800 people.
Matthews at 45, has been playing guitar since he was 15 and playing in
various bands since he was 17 and theatre is new to him and he says, he
enjoys the experience.