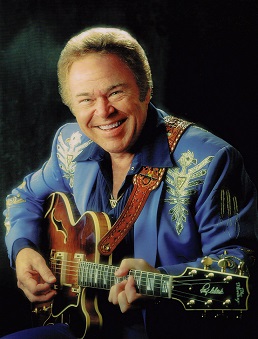 Roy Clark, legendary country music superstar passed away on November 15, 2018 at age 85.
He died due to complicationsfrom pneumonia at home. He was born as Roy Linwood Clark on
April 15, 1933 in Meherrin, Virginia
Here are some of the many highlights of his career:
*A Grammy, CMA and ACM Award Winner
*A finest multi-instrumentalist
*First cross-over artist to land singles on both the pop and country charts
*A Pioneer who turned Branson, Mo. into the live music capitol of the world
*His talents turned HEE HAW 1969-1992 into the longest running syndicated
show in television history for 24 years.
*A Guest host for the Johnny Carson Show for many years
*His first hit song was, THE TIP OF MY FINGERS
*Many hit songs such as: Yesterday When I Was Young, I Never Picked Cotton,
Thank God and Greyhound Your Gone,
Come Live With Me, Somewhere Between
Love and Tomorrow,If I Had It To Do All Over Again
*A pioneering sold out concert in the then Soviet Union, 1976 and returned in 1988
in now Russia and was
hailed as a hero.
*A Star on Hollywood Wall of Fame
* A 63rd Member of the Grand Ole Opry 1987
*Won countless Awards
*Entered Country Hall of Fame in Nashville 2009
*He was married to his wife, Barbara for 61 years and have 3 sons and 2 daughters.
Roy Clark's Celebration of Life, takes place on Wednesday, November 21 at 11 am at Rhema Bible Church at 1025 W Kenaska St., Broken Arrow (near Tulsa, OK.)
A Private invitation only for family, friends and fellow performers Tuesday evening.
Celebration can be viewed on rhema.org or Rhema Bible Church Facebook.