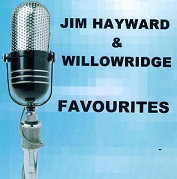 Jim Hayward & Willowridge , a Bluegrass Group from Central Ontario just

released their 4th CDentitled Favourites.
In 2015 they earned a nomination for the Central Canadian Bluegrass Awards.
The group are together for 10 years and perform at many bluegrass festivals in Ontario.
Band members are: Sam Marshall (newest member on banjo)-Jim Hayward, vocals-Gary Meyer,
guitar mandolin and singer-Dickson Raynard, upright bass and tenor harmonies.
Their new CD is a follow-up to their last CD entitled, Willowridge Mountain Home, a real winner promoted on this website.
Here are the 12 title tracks:
Cut The Corn Bread - In My Next Life - Forever On My Mind - Maple Sugar
Lefty's Old Guitar - Angel Band - I Believe - The New River Train
Daddy Doesn't Pray - My Home Town - The Name On The Wall - Tennesee Whiskey
What a great sounding Bluegrass CD, Atlantic Seabreeze says! This CD is a must for all Bluegrasslovers as well to other country music fans.
Other CD titles released by the band are: Thanks For The Ride in 2010 and Never Goin' Down That Road Again.
Atlantic Seabreeze gives this album a full 5 Star out of 5 stars on its rating list.
The band is available for festivals, Private Parties, Birthdays, Anniversaries, Charity Events or any other musical event.
For more information regard the band and their music, refer to their website, address posted above.