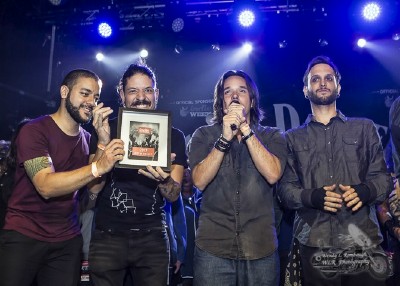 Following six nights of more than
250 amazing performances
and independent music,
ETNO
has been named
winner of Indie Week 2017!
Presented by Jack Daniel's and hosted by 94.9 The Rock, the Indie Week 2017 Awards were held at The Mod Club Sunday, November 12th. Festival-goers were treated to cream of the crop performances by the week's semi-finalists — the best acts from across Indie Week Canada 2017 — as well as last year's winner, Moon Tan.
Chosen by industry judges as the Best of the Fest, Brazil's grunge rock/new metal outfit ETNO ultimately rose to the top over eight other semi-finalists narrowed throughout the week's events. As part of their win, they will travel to Manchester, England next year to headline Indie Week UK 2018.
Second place honours went to Canadian country artist Danielle Bourjeaurd, while another Brazilian rock band, Trampa, came in third.
Other semi-finalists included :
Charlie The Kid- Huttch- Dylan Hennessy- Luna Li- Rochester- Tokyo Taboo
ABOUT ETNO
A four piece rock band based in Brasília, ETNO cites influences ranging from grunge to new metal with a contemporary touches woven through their sound and performance.
The band has been on the road gaining speed for the last 15 years, building a solid career and a big influence in their hometown as well as other cities and states of Brazil. Their uniquely positioned three-part album release for As 7 Fronteiras — out over the course of 2016 - 2017 — included a tattoo giveaway turned music video with live performances for Sétima Fronteira.